JEOL Asia Pte Ltd
A Brief History of JEOL

The Japan Electron Optics Laboratory Company, Limited (JEOL) was founded in 1949 by Kenji Kazato and Kazuo Ito in Mitaka, Tokyo. It produced its first commercial model transmission electron microscope, the JEM-1, a year later.

JEOL Today

Today, JEOL is a major developer and manufacturer of electron microscopes and other scientific instruments, industrial equipment and medical equipment. Its headquarters are in Tokyo, Japan, with various foreign subsidiaries and associated companies. It is listed in the top ten businesses worldwide for analytical laboratory instrument manufacturing. JEOL's instruments are today used by researchers all around the world!

Some Products of JEOL


JEOL NeoScope JCM 7000 Bench Top SEM
The JCM-7000 Benchtop Scanning Electron Microscope is designed based on a key concept of "Easy-to-use SEM with seamless navigation and live analysis". The JCM-7000 incorporates three innovative functions; "Zeromag" for smooth transition from optical to SEM imaging, "Live Analysis" for finding constituent elements for an image observation area, and "Live 3D" for displaying a reconstructed live 3D image during SEM observation.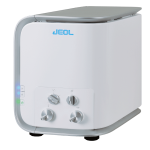 JEOL NeoScope JCM 6000 plus Bench Top SEM
The JCM-6000Plus has been further enhanced with a high-sensitivity backscattered electron detector providing high quality images, achieving a high end and high performance benchtop scanning electron microscope.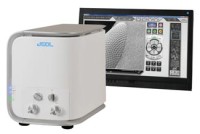 JEOL NeoScope JCM 6000 Bench Top SEM
The JEOL NeoScope benchtop SEM is a system design to complement both conventional optical microscopes and Scanning Electron Microscopes (SEM) in the lab. The compact system is very user friendly and has a powerful electron optics with up to a magnification of 60,000X!
Nikon Neoscope JCM 5000 Bench Top SEM
Now being replaced by the JEOL JCM 6000, the older version JCM 5000 has a magnification of upto 40,000x. This system is a good complement to the conventional optical microscopes and the SEM.