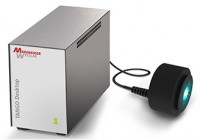 Märzhäuser LED Illumination for Microscopy
Märzhäuser LED-lighting LED 100 enables excellent image results at an excellent value for money. Combined with high-performance controller TANGO or the external dimmer-shutter unit DSU-1, it can easily be integrated into existing systems for a broad range of applications.
Märzhäuser DSU 1 Light Control
The DSU-1 dimmer shutter unit is use together with the LED-100 light source easy control of light intensity. The combination provides a good alternative for upgrade for all microscope model including Nikon, Olympus, Leica and Zeiss.