Marzhauser Motorised Microscope Stages
Motorized microscope stages, which Marzhauser provides are characterized by their high accuracy and extreme smooth movement. This is due mainly to high-precision cross roller bearings, closest tolerances in manufacturing as well as a special long-term lubrication system. According to their designated application stages can be supplied as a reflected light or transmitted light version and if requested even with ranges of travel up to 600 x 600 mm.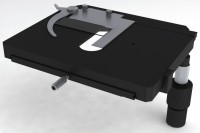 Marzhauser Manual Microscope Stages
The manual stage from Marzhauser offers robust, high-precision and operating-friendly stage for upright and inverted microscopes. The especially developed CERASIST® surface coating makes surfaces of the 2 plate microscope stages almost completely free of wear.