Nikon Eclipse E200-LED Microscope

Overview
With the Eclipse E200, Nikon has designed a simple and easy-to-use system that reduces fatigue from use over long periods. With a robust structure and anti-mold design, the Eclipse E200 offers high quality and accuracy that can be retained for years even in hot and humid environments. The Eclipse E200 offers exceptional operability and durability, and high-quality images. It can be used for various purposes, such as educational, clinical laboratory use, and basic research. The Eclipse E200-F, a model with a field diaphragm with position-guide markings, is also available.

Key Features:
High-intensity LED Eco-illumination
Eco-illumination provides enough brightness for phase contrast observation. With a fly-eye lens in the illuminator, uniform brightness is provided in the entire field of view. Using environmentally friendly long-life LEDs, Eco-illumination boasts a long lifetime of 60,000 hours and reduces the need for frequent lamp replacement. A halogen illumination model is also available.


A wider field of view
The E200's eyepieces feature a wider field of view for a microscope of this class and are available in 10x (F.O.V. 20) and 15x (F.O.V. 12) types.

Simple operation aided by refocusing stage and upper limit stopper

Coaxial coarse/fine focus knob
The coaxial coarse/fine focus knob and the stage handle are located equidistant from the operator, so comfortable operation in a natural posture is possible even during a prolonged period of observation. The torque of the coarse focus knob is adjustable.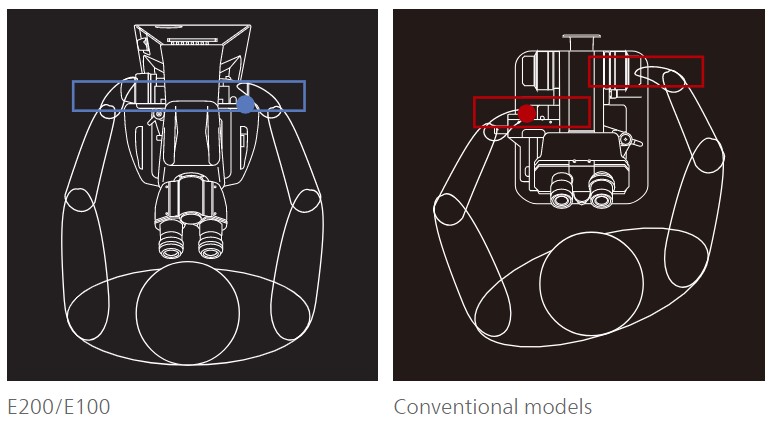 Phase contrast attachments
With an optional condenser, objectives and sliders dedicated for phase contrast and darkfield observation, even an unstained specimen that is colorless and transparent can be observed with clear contrast.
① Phase Condenser
② CFI BE Plan Achromat DL Objectives
③ Phase Centering Telescope
④ E1-PHA Phase Contrast Slider A 10x/40x
⑤ E1-PHA Phase Contrast Slider B 40x/BF
⑥ E1-PHA Phase Contrast Slider C 40x/100x
⑦ 45-mm Filter (GIF)

Condenser with position guide markings
The condenser comes with an aperture diaphragm with position guide markings for each objective magnification to make operations quick and easy.

Smooth rotation quadruple nosepiece
The high-quality revolving nosepiece has a click-stop mechanism. A knurled elastic-covered grip provides easy rotation and eliminates the need to touch the objectives.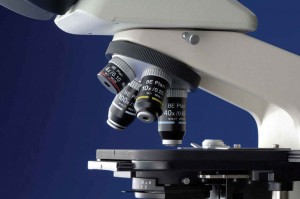 Supports a wide range of microscope applications