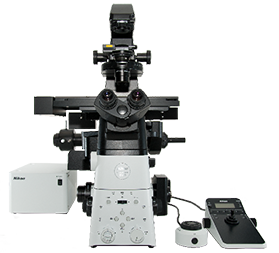 Overview
The Eclipse Ti2 delivers an unparalleled 25mm field of view (FOV) that revolutionizes the way you see. With this incredible FOV, the Ti2 maximizes the sensor area of large-format CMOS cameras without making compromises, and significantly improves data throughput. The Ti2's exceptionally stable, drift-free platform is designed to meet the demands of super-resolution imaging while its unique hardware-triggering capabilities enhance even the most challenging, high-speed imaging applications. Furthermore, the Ti2's unique, intelligent functions guide users through imaging workflows by gathering data from internal sensors, eliminating the possibility of user errors.

Key Features:

Groundbreaking FOV
As research trends evolve towards large-scale, systems-level approaches, there is an increasing demand for faster data acquisition and higher throughput capabilities. Development of large-format camera sensors and improvements in the data processing capabilities of PCs have facilitated such research trends. The Ti2, with its unprecedented 25mm field of view, provides the next level of scalability, enabling researchers to truly maximize the utility of large-format detectors and future-proof their core imaging platform as camera technologies continue to develop at a rapid pace.

Bright Illumination Over a Wide Area
High-power LEDs deliver bright illumination across the Ti2's large field of view, ensuring clear, consistent results from demanding applications such as high-magnification DIC. Incorporation of a fly-eye lens design provides uniform illumination from edge to edge for quantitative high-speed imaging and seamless tiling of images in stitching applications.

Large Diameter Observation Optics
The diameter of the observation light path has been enlarged in order to achieve a field number of 25 at the imaging port. The resulting large FOV is capable of capturing approximately double the area of conventional optics, enabling users to gain maximum performance from large-format sensors such as CMOS detectors.

Objectives for Large FOV Imaging
Objectives with superior image flatness ensure high quality images from edge to edge. Utilizing the maximum potential of the OFN25 objective significantly accelerates data collection.