Nikon Eclipse Ci-POL
Overview
Microscopes for dispersion staining observation allowing qualitative analysis and identification of asbestos

Key Features:
Polarizing microscopes can measure the properties of asbestos, such as refractive indices, birefringence, retardation, extinction angles, pleochroism and signs of elongation, helping in the identification of asbestos. LV100ND POL/DS is a high-performance, polarizing microscope with accessories that enable dispersion staining observation of up to 400x.

Benefits & features

Nosepiece
Nosepiece uses the same DIN standard compensator slot design as the LV100N POL to accept various compensators for advanced quantitative measurements. All five objectives are centerable.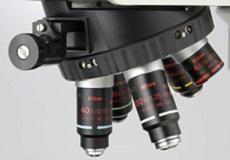 Tube
The intermediate tube incorporates a Bertrand lens as standard, enabling both observation and capture of conoscopic and orthoscopic images.

Diascopic/Episcopic illumination type
Both diascopic and episcopic polarizing observation are possible by mounting the LV-UEPI-N universal epi-illuminator. The epi-illuminator uses the high-intensity 50W lamp as standard which provides brighter illumination than a conventional 100W lamp. A noise-terminator mechanism is employed to provide sharp images with high S/N ratios.

CFI60 Optical System
The industry-acclaimed infinity optics – the CFI60 system – successfully deliver long working distances and high NA and produce tack-sharp aberration-free images. They employ an eco-glass that is manufactured with no harmful substances such as lead and arsenic. The episcopic objectives are from the newly developed CFI60-2 series and produce pin-sharp aberration-free images regardless of magnification.
Specifications

Main body:
Optical system:CFI60 infinity, Illumination: 6V-30W halogen lamp; 6V-30W transformer built-in; ND8, ND4 filters built-in, Focusing: Coaxial coarse/fine focus knob; Focus stroke: 30mm; Coarse: 9.33mm per rotation; Fine: 0.1mm; Minimum reading: in 1µm increments

Eyepiece:
10x (F.O.V. 22mm)

Eyepiece tube:
P-TT3 Trinocular Tube for polarizing microscopy; P-TB2 Binocular Tube for polarizing microscopy

Intermediate tube: 
Built-in focusable Bertrand lens removable from optical path; Conoscopic/Orthoscopic observations switchable; Analyzer built-in; Accessory plate/compensator slot

Analyzer:
360° rotary dial; Minimum reading angle 0.1°

Nosepiece:
Centering quintuple nosepiece (detachable); DIN slot

Stage:
Ball bearing rotary stage; Rotatable 360° horizontally;
can be fixed at a specific position; Graduated 360° (in 1° increments); Rotation clamp equipped;
Attachable mechanical stage: 35 x 25 mm travel; vernier 0.1mm

Condenser:
Dedicated strain-free swing-out type; P Achromat NA 0.9

Polarizer:
No scale markings

Objectives (Polarizing Set):
CFI P Achromat 4x, 10x, 20x, 40x, 100x, CFI TU Plan Fluor Epi P 5x, 10x, 20x, 50x, 100x