1000 DX Pathology Slide Scanner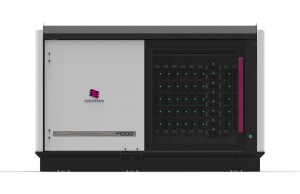 Overview
PANNORAMIC® 1000 DX is the largest member of 3DHISTECH's PANNORAMIC® DX scanner range. Its unprecedented capacity, its unparalleled throughput and its robust design offer a reliable solution for high-volume whole-slide scanning for large routine pathology laboratories.

– Capacity: up to 1000 sldies
– Speed: 32 sec/slide*
– Throughput: up to 95 slides/hours*
– Bright field scanning
– Flash scanning technology
– 20x – 40x objective
– Flexibility: arbitary-order scanning
– Single and double-width slide scanning
– Continuous loading


Key features

Highest capacity and fastest scanning on the market
It is the fastest whole-slide scanner on the market at up to 100 slides per hour (20x objective/40x optical equivalent magnification, 0.24 μm / pixel, 7500 μm focus point distance, 15×15 mm average sample size, two sets of prefilled magazines, single layer local scanning).


Fully automated scanning operation
Slide loading and scanning are fully automated, enabling one-touch, walk-away scanning for a whole day's needs at a large routine pathology laboratory, speeding up the laboratory workflow and freeing up valuable lab resources.

Exceptional image quality
Thanks to the high-quality objectives, adapters and 12 MP camera with Xenon Flash illumination, PANNORAMIC® 1000 DX offers exceptional image quality in brightfield scanning. It can achieve up to 41x / 82x optical magnification and 0.242 / 0.121 µm/pixel resolution.

Most efficient slide logistics
Its magazine panels support the Sakura slide cassettes compatible with several stainer-coverslippers, offering routine pathology laboratories great flexibility. Its robotized loader ensures rapid loading, while slide processing remains flexible, allowing for priority slide handling and scanning in arbitrary order.

Supporting large-format slides
The PANNORAMIC® 1000 DX supports large-format slides (has double-width of a standard slide) for compromise-free mixed-batch (standard and large-format slide) scanning. In this case, it can accommodate 840 slides (800 standard and 40 large-format slides).

Supported image formats
The PANNORAMIC® 1000 DX supports DICOM as a global standard, and MRXS as a proprietary file format.

*20x obejctive/40x optical equivalent magnification, 0.24um/pixel, 7500um focus point distance, 15x15mm average sample size, two sets of prefilled magazines, singapore layer local scanning.