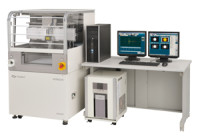 Overview
The Scanning Acoustic Tomograph FineSAT uses ultrasonic waves to obtain images of internal voids, cracks, abrasion, etc., in materials such as semiconductor packages, electronic components, ceramics, metals, resins, in a non-destructive manner. FineSAT can also detect nanometer gaps that cannot be detected by X-ray equipment, infrared inspection equipment or optical microscope. FineSAT III, the third-generation equipment of FineSAT, has the best performance for basic functions such as high resolution, and it is equipped with the most enhanced analysis software that provides high-speed auto measurement, transmission/reflection simultaneous measurement function and defect auto-detection function. Furthermore, it has improved usability, including batch storage of flaw-searched data, and can be used in a wide range of applications; from large amount inspection in the production process to research and development.



Key Features:

A wide opening area that improves safety
A mechanism that prevents mechanical and electrical accidents is provided by default, for example, an area sensor is installed to prevent erroneous operation in the case of wide openings that are convenient for placing and removing samples.

Responding to operation needs accurately
FineSAT is fully equipped with items such as a magnetic plate that facilitates securing small samples and a standard test specimen that is essential for daily inspection. In addition, we are meticulously responding to improvement needs during daily operations in the software, including the enhancement of the help functions.

Seeking ease of use and safety
We introduce new ideas in different details so that the equipment is easy to use with safe operation; some example are the large windows on both sides, LED lighting, power switch protection cover, detachable front transparent panel , etc.