Metkon Digiprep 251
DIGIPREP preparation systems are designed for fully automated metallographic sample preparation for consistant and reproducible specimen quality. DIGIPREP's Automatic Head controls the force applied precisely and specimens are prepared exactly the same way everytime independent of operator skills. Withe the ability to store and recall preparation programs on the LCD screen, same consistant results are obtained. Efficiency is further increased with optional DOSIMAT Peristaltic Dispensing Unit for automation and control of consumable usage.

The Base Unit
The Base Unit
DIGIPREP's variable speed base unit is available in 2 version: DIGIPREP 301 with 300mm diameter wheel and DIGIPREP 251 with 250mm diameter wheel. The base unit is powered by a high torque 1.0 HP electric motor. The state of the art frequency converter allows smooth speed variation (50-600rpm) with soft start and soft stop. The stylish and functional ABS housing is corrorion free and easy to clean. Molded wheel bowls and drains eliminate leaks and the build-up of residue is prevented by consistant flushing of the bowl. The drive elements are fixed on heavy duty aluminium alloy casting. The wheels are mounted on ball bearings allowing the application of high pressures to prepare even large specimens. Ball bearings used provided quiet and vibration free operation. When required, the base unit can be operated in manual mode as well.

The Automatic Head
DIGIPREP's programmable Automatic Head is coloured HMI youch screen controlled and with the Base Unit, thus creating automatic preparation system. It is used to prepare high volumes of metallographic, ceramic and mineralogical specimens with consistantly reproducible quality. The automatic head can apply both "Central" and/or "Individual" forces. IT can accomodate single samples as well as multi sample holders thus offering a perfect solution for all levels of sample throuhput requirements. The automatic head is mounted to a hardened steel post which is affixed to the cast base of the grinder / polisher. The force on the specimen, "individyal" or "central" is pneumatically controlled by a pressure transducer. Optional encoder allows you to measure the amount of material removed from the surface. The desired grinding depth can be set to grind different type of samples and also for applications that need special accuracy. The system is enclosed in an ABS housing with touch screen LCD. The automatic Head is rapidly positioned via a quick locking clamping lever. The soft start and stop feature automatically starts the sequence with a low initial force which is then inceased to the preset.

Programmable HMI touch screen controls
Towards the end of the cycle, the force is automatically reduces to 75% of the setting to prevent scratching. A veriety of sample holders for individual or central force applications are available for the different sample sizes.

All preparation parameters can be stored in memory under a specific program number. Each program can be saved for a material specific name such as "Cast Iron, Bronze, AL-Si Allot, etc". The parameters which can be saved are; force, cycle time, wheel speed and direction, mode of operation. Dispensing frequency can also be saved when DOSIMAT peristaltic dispenser is available. These parameters are entered and store in memory and displayed on the LCD screen as preset values. All the operator meeds to do is to select the mode of operation, call up a specific program and press "Start". Upon completion of the cycle, an acoustic signal lets the operator knows that the cycle is over and the samples are ready for the next step. When required, it is also possible to intervene in the program and change the parameters without stopping the instrument.

Enviro Filter Unit is a closed loop recirculating filter system which is optionally available. It has a 20 litre reservior capacity with 1 micron filter entering the grinder / polisher intake. Enviro can also be coupled with line water and 80 micron filtering system for disposal

Ergonomic Opertaion
LED lighting to illuminate the working area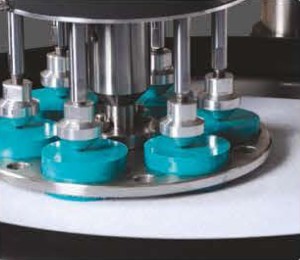 Central or Individual Force application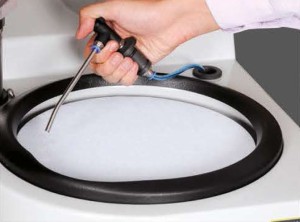 Retractable water hose for easy cleaning
Simple exchange of working discs
Special plexiglass protection unit