Mahr MarSurf PS 10 Mobile Roughness Measurement System
A compact roughness measuring instrument for mobile use. It is simple and intuitive to use: as easy as using a smart phone. equiped with large, illuminated 4.3″ TFT touch adjustable display
Mahr MarSurf CP – 2D/3D Surface Profilometry
A compact roughness measuring instrument for mobile use. It is simple and intuitive to use: as easy as using a smart phone. equiped with large, illuminated 4.3″ TFT touch adjustable display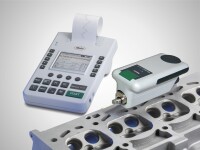 Mahr MarSurf M 400 Mobile Roughness Measurement System
MarSurf M 400. The best of the "mobiles" roughness tester! Surface evaluation using skidless tracing is not only needed in the measuring room but is required more and more in production as well. MarSurf M 400 offers this required scope of performance and at the same time simple and fast operability.
Mahr MarSurf M 300 Mobile Roughness Measurement System
MarSurf M 300 is the first portable roughness measuring instrument with the option of wireless (Bluetooth) connection to the drive unit. This is a mobile roughness measurement system that is design for utmost user friendliness. Idea for any environment that needs roughness measurement.