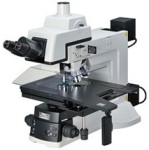 Nikon Eclipse L200N and L200ND Microscope
Combined with Nikon's superior CFI60 LU/L optical system and an extraordinary new illumination system, this microscope provides images with greater contrast, high resolving power and darkfield images three times brighter than before.
Nikon Eclipse L300N Wafer Inspection Microscope
Featuring Nikon's most advanced optics for unparalleled inspection of the latest wafer types. Nikon Eclipse L300N/L300ND FPD and or Wafer Inspection microscopes incorporate Nikon's renowned CFI60 infinity optics, offering the world's highest level of optical performance. The enhanced epi-fluorescence function, which enables 365nm UV excitation, is optimal for the inspection of semiconductor resist residues on 300mm wafers and organic electroluminescence displays.