Nikon NEXIV VMZ-R6555 Video Measuring System
Magnification, AF and illumination conditions can be finely adjusted for each specimen. VMZ-R6555 offers 650 x 550 mm stroke, which is suitable for large components and "step-and-repeat" measurements of multiple pieces on the stage.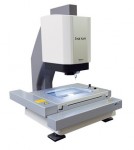 Nikon iNEXIV VMA-R2520 Video Measuring System
The iNEXIV VMA-2520 is a new multi-sensor measuring system that's lightweight and compact enough to be used in the factory on the bench top, with fast, fully automatic and high accuracy features that make it ideally suited for a wide variety of industrial measuring, inspection and quality control applications. The iNEXIV is designed to measure 3D workpieces, is touch probe ready, integrates the latest imaging processing software and incorporates a new 10x optical zoom system and Laser Auto Focus option.