Metkon Servocut 301
SERVOCUT 301 is an advanced universal metallographic cutting machine used to cut a very wide range of materials. It is powerful with spacious cutting chamber and fully automatic. The system is programmable with coloured HMI touch screen controls. X, Y and Z axes cutting are possible with the cutting parameters automatically controlled. Various mode of cutting are available such as chop cutting, table-feed and pulse cutting.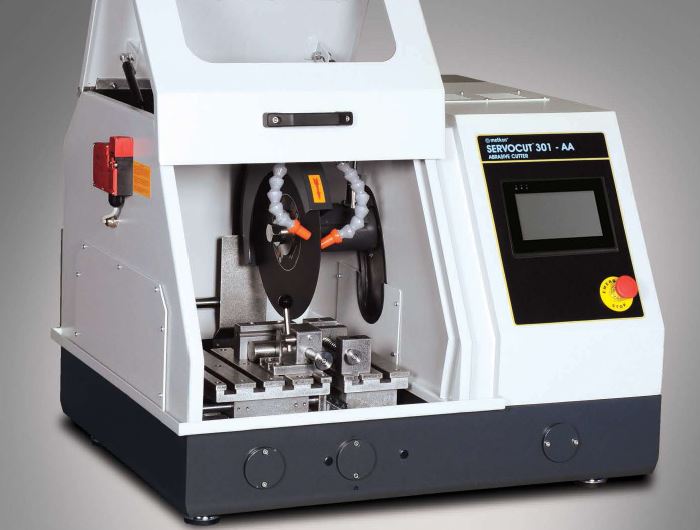 SERVOCUT 301
Design and Operation
Specimens integrity begins with high quality cutting. Perfectly cut surfaces reduce the number of subsequent preparation stages and shorten the total sample preparation time to the minimium. SERVOCUT 301 offers the advantage of combining different cutting techniques and methods into the same machine to obtain superior cut surfaces for a broad range of heavy duty cutting applications.

SERVOCUT 301 has X-Y-Z triple axes cutting capability:
Z-Axis Chop cutting: The specimens is clamped and the cut-off wheel approaches the specimen.
Y-Axis Table-feed Cutting: Feeding the clamped specimen into a rotating cut-off wheel using a T-Slotted feed table.
X-Axis Parallel Cutting: Parallel serial sectioning in the x-axis with optional movable x-bed.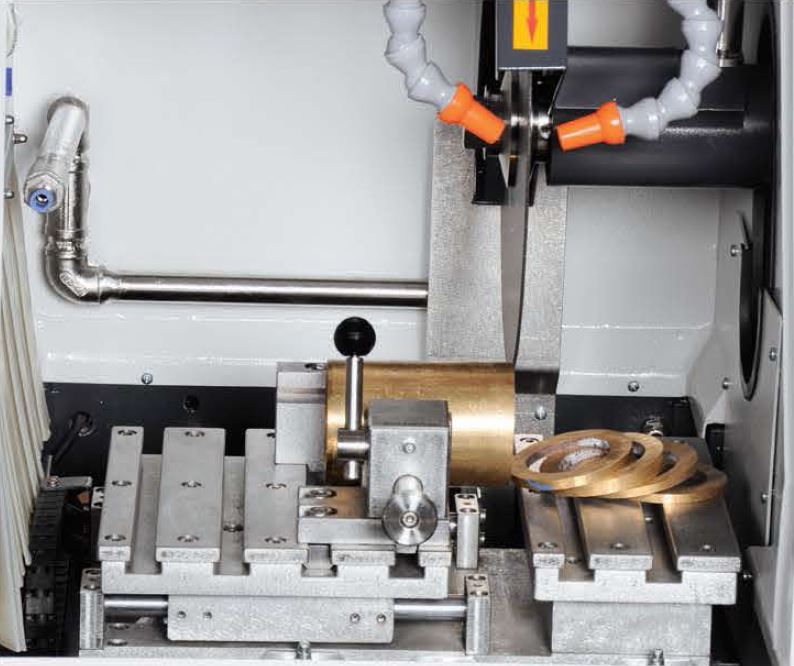 Multi-slice automatic serial cutting of plane parallel sections
Automatic Operation
SERVOCUT 301 automatic models have advanced techniques and software with programmable HMI touch screen controls increasing the productivity, sample consistancy and operator comfort.

Cutting Methods Chop cutting (Z-axis) and Table feed cutting (Y-Axis) combines with pulse cutting in automatic mode is standard. Optional cutting methods also available are diagonal cut, step cut, segment cut, are available which make SERVOCUT 301 the perfect choice for a broad range of heavy duty cutting applications.
Multi-Slice Cutting The optional automatic x-table allows programmable plane parallel sectioning. Slices of equal thicknes with number of slices as well as programming slices of different thickness is possible.

Clamping Devices
Many sample preparations application require the section of a specimen from small or irregularly shaped sample or component parts. The small size or irregular sample shape can create positioning and clamping difficulties for the operator. To overcome these difficulties, a number of special clamping devices are offered. The system are equiped with stainless steel T-slot clamping tables. All clamping devices are made from stainless steel and can be attached to the T-slot beds in seconds for fast and positive clamping of parts having virtually any configuration.

HMI touch screen controls with varios cutting methods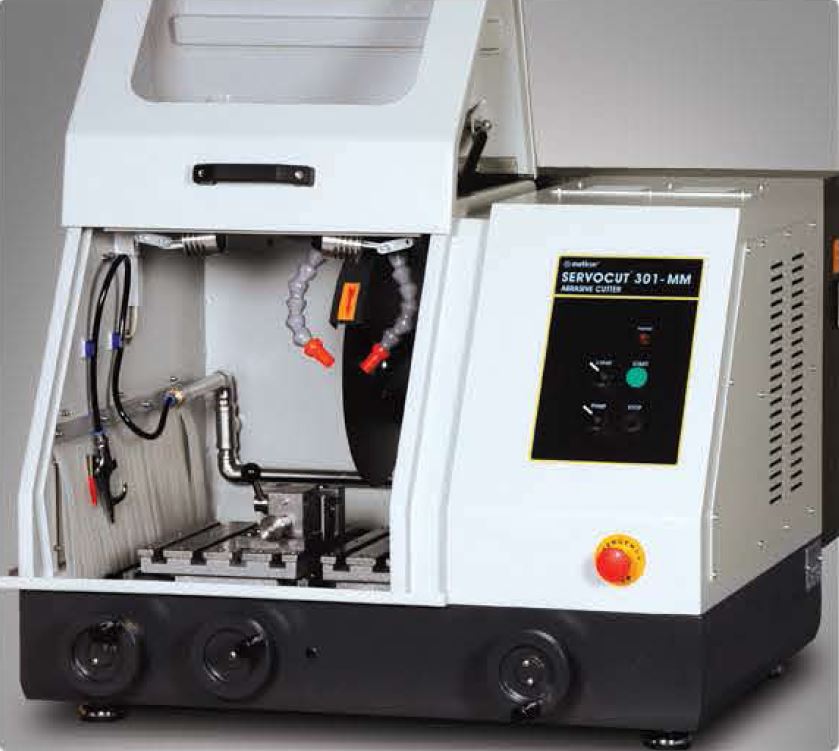 Manual chop and table feed cutter
Band filter unit