Nikon SMZ18 Stereomicroscope
Intelligent yet affordable manual zoom stereomicroscope provides brilliant images and unparalleled uniformity in fluorescence intensity.
Nikon's SMZ18 research stereomicroscope combines macro and micro imaging in one manual instrument for convenient, affordable viewing and manipulation of single cells to whole organisms. A high-performance fly-eye lens provides crystal-clear fluorescent images, with uniform brightness across the entire field of view. Using enhanced epi-fluorescence technology, the SMZ18 is better able to detect excitation light than conventional fluorescent stereomicroscopes, for improved S/N ratios and bright, high-contrast images, even in the low magnification range. Integrated intelligence allows SMZ18 to save imaging parameters along with the captured image as a convenient data file.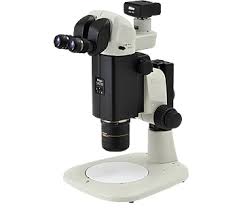 SMZ 18 Microscope
Brightest Epi-fluorescence Imaging
The SMZ18 combines fly-eye technology, which uniformly illuminates the entire field of view, and a high S/N ratio along with increased transmission for incredibly bright fluorescence, even at low magnifications. This also minimizes photobleaching and phototoxicity, thus reducing harm to live cells and organisms.

Flexible Architecture Allows Full Customization
A wide range of digital imaging capabilities means that users can customize the SMZ18 to best suit their research needs.

Improved Signal-to-Noise Ratios
Nikon's newly developed optical system offers a drastic improvement in S/N ratio even at high magnifications.
The improved S/N ratio makes it possible to capture cell division, which is difficult using conventional stereomicroscopes, and samples with low excitation light.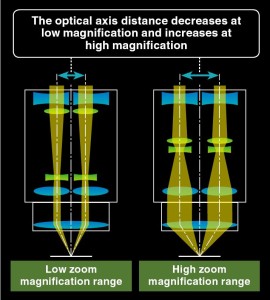 Newly developed high-performance objective lens
Nikon's newly developed objective lens series, the SHR Plan Apo series, offers a high resolution of 1100LP/mm (Observed value, using SHR Plan Apo 2x at maximum zoom). The new SHR Plan Apo series of lenses deliver brilliant images with true-to-life colors.

Wide Range of Available Accessories
Nikon has improved ease of use by moving the controls to the front of the base, including the brightness adjustment dial and on/off switch.
Fiber DIABase – Fiber DIA base features condenser lenses that can be switched between low and high magnifications. Furthermore, the Oblique Coherent Contrast (OCC) illumination system allows high contrast illumination.
Slim Bases – The slimmer LED DIA Base and Plain Base help increase efficiency of sample manipulation by bringing the level of the sample closer to the table.

Photo Tubes
Choose from two types of tilting trinocular tube and one type of low eyelevel trinocular tube. All tubes have a camera port for seamless integration with the Digital Sight series.